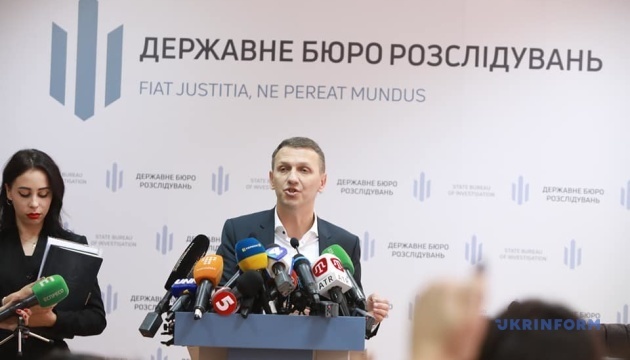 Truba accuses PGO of covering MP Pashynsky
Investigators of the Prosecutor General's Office (PGO) covered former Ukrainian MP Serhiy Pashynsky in a case on his inflicting bodily harm to citizen Viacheslav Khimikus, Director of the State Bureau of Investigation (SBI) Roman Truba has said.
"Investigators of the Kyiv regional prosecutor's office scheduled forensic examinations. These examinations showed that the people's deputy sustained minor injuries, whereas the citizen he shot sustained serious injuries," Truba said at a press conference on Wednesday, October 9.
According to him, despite this fact, Khimikus did not have the status of a victim in a criminal case. The investigation was not conducted and subsequently closed by the Prosecutor General's Office, he added.
"Criminal proceedings from the Vasylkiv directorate of the National Police were taken by the Prosecutor General's Office, which always moderated it in favor of the people's deputy. First, the citizen who sustained a bullet wound was not recognized as a victim. The Prosecutor General's Office did not investigate the deputy's actions as causing grievous bodily harm to another person. This citizen was not even involved in an investigative experiment," Truba said.
According to Truba, the case against Pashynsky is currently being investigated again. He also did not rule out that the qualification of the crime could subsequently be modified.
On October 8, the Pechersky District Court of Kyiv ruled to take Pashynsky into custody for two months.
On October 4, investigators of the central office of the State Bureau of Investigation (SBI) served Pashynsky with a notice of suspicion in causing grievous bodily harm to a citizen.
The pretrial investigation found that on December 31, 2016, in a village in Vasylkiv district of Kyiv region, a road incident occurred between Pashynsky and local resident Viacheslav Khimikus. Pashynsky then wounded his opponent with a Glock 19 pistol, which he said was a weapon of honor. He said he had received it in March 2014 when he served as acting deputy head of the Presidential Administration.
Khimikus sustained a gunshot wound to his left leg. According to a forensic examination, the wound was severe.
op