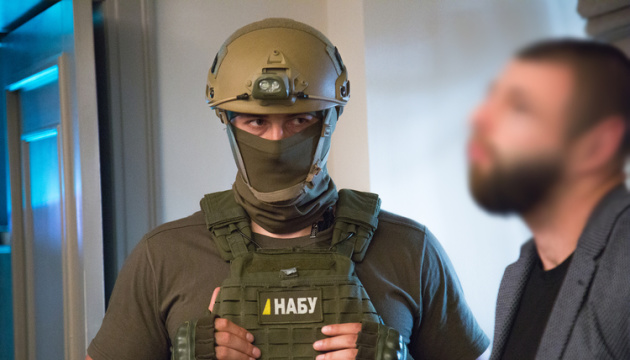 NABU detains Oschadbank's top managers on suspicion of stealing $20 mln
Detectives of the National Anti-Corruption Bureau of Ukraine (NABU), under the procedural control of prosecutors of the Specialized Anti-Prosecutor's Office (SAPO), on October 23 detained ten people suspected of taking possession of over $20 million belonging to state-owned Oschadbank, the NABU press service has reported.
"The suspects include two current officials and a former official of Oschadbank. In particular, the issue concerns a former director of the department for corporate business at the state bank (who currently serves as deputy head of the board of JSC Oschadbank), a former head of the department for project financing at JSC Oschadbank (who retired from the state bank in 2015), and a former head of unit of the department for project financing at JSC Oschadbank (who currently serves as head of this department at the state bank)," the report says.
Other suspects are former beneficiaries of the Kreatyv (Creative) group of companies, a number of former officials of enterprises that are part of this holding, as well as an appraiser.
According to the investigation, between 2013 and 2015, officials of the Kreatyv group of companies, who entered into conspiracy with officials of the state bank, forged documents to receive a $20 million loan allegedly for the purchase of sunflower seeds. After receiving the money, Kreatyv owners transferred these funds to the accounts of companies registered in Belize and Switzerland. Then they used this money to pay for the purchase of the corporate rights of companies that owned valuable real estate.
"NABU detectives have evidence that when making the decision on granting the loan, Oschadbank officials relied on unverified and sometimes fake documents, some of which were created with their own participation. The corruption scheme resulted in the withdrawal from Oschadbank of $20 million (an equivalent of UAH 160 million at the time of the crime), which led to a reduction of assets of JSC Oschadbank (losses) in the amount of UAH 133 million due to expenses on forming the reserve for this loan," the NABU said.
The detectives are conducting investigative measures. The issue of selecting a preventive measure for the suspects is being decided.
op