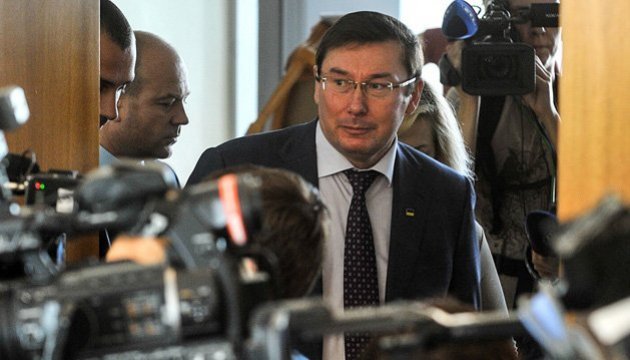 Prosecutor general signs notice of suspicion for MP Dovhy
Prosecutor general signs notice of suspicion for MP Dovhy
Ukrainian Prosecutor General Yuriy Lutsenko has signed a notice of suspicion for former Kyiv City Council Secretary, MP Oles Dovhy, Lutsenko's spokesperson, Larysa Sarhan, has told Ukrainska Pravda.
"Yes, it's true. The prosecutor general has signed a notice of suspicion," she said.
Sarhan specified that Ukraine's Specialized Anti-Corruption Prosecutor's Office (SAPO) had updated the materials of the criminal proceedings and the prosecutor general had signed the notice.
Dovhy is suspected of the illegal allocation of land on Zhukov Island in Kyiv, which caused losses of UAH 82 million.
On June 21, Lutsenko submitted a motion to the Verkhovna Rada requesting the removal of parliamentary immunity from five MPs - Andriy Lozovy, Yevhen Deidei, Oles Dovhy, Boryslav Rosenblat, and Maksym Poliakov.
On June 29, he tabled a similar motion with respect to Opposition Bloc deputy Mykhailo Dobkin.
On July 4, the parliament's committee on rules of procedure found "significant defects" in the motion on stripping Dovhy of his deputy immunity.
According to the chairman of the committee, Pavlo Pynzenyk, the committee will pass this decision to Verkhovna Rada Speaker Andriy Parubiy so that the parliament determines whether Dovhy can be called to account.
op