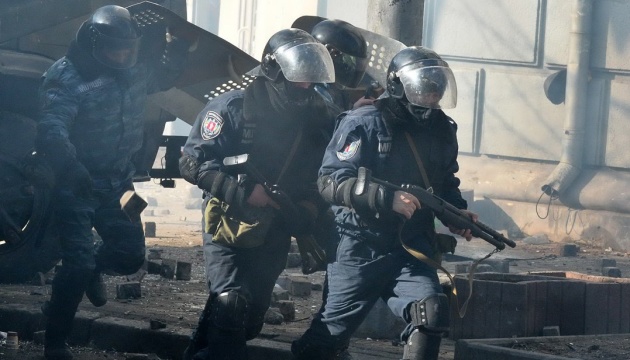 Court considering expert examinations in Maidan shootings case
The Sviatoshynsky District Court in Kyiv continues to consider the criminal proceedings against five ex-officers of the Berkut riot police force, suspected of shooting Euromaidan activists in Kyiv in February 2014.
As an Ukrinform correspondent reports, there are five suspects and their lawyers, prosecutors and aggrieved persons in the courtroom. The Court examines the files of an expert examination of the bullets as the evidence in the case.
May 17, the court began its consideration of the case against five former Berkut officers: Pavlo Abroskin, Serhiy Zinchenko, Oleksandr Marinchenko, Serhiy Tamtura and Oleh Yanishevsky. They are accused of shooting Maidan activists in Kyiv in February 2014. Five former officers are charged with abuse of office, illegal handling of weapons, intended killing and inflicting bodily injury to Maidan activists. The defendants do not admit their guilt.
According to Yanis Simonov, the prosecutor of the Prosecutor General's Office of Ukraine, a total of 25 law enforcement officers, involved in shooting Maidan activists, were identified. Twenty of them are currently wanted.
ol