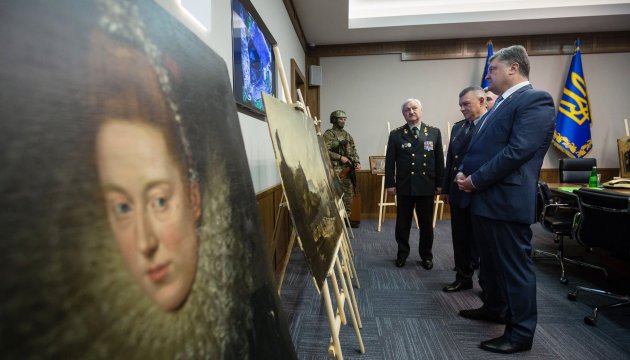 Ukrainian border guards seize paintings stolen from Italian museum in 2015
President Petro Poroshenko has lauded the personnel of the Border Guard Service and Military Prosecutor's Office who completed a successful search operation to intercept a collection of 17 valuable paintings stolen from the Municipal Museum in Verona, Italy, the press service of the President reports.
"These paintings are jewels in the collection at the Museum of Verona. Today, this brilliant operation has proven to the world how effectively Ukraine has been combating contraband, including smuggling of works of art, as well as its anti-corruption measures," said Poroshenko.
He noted the total value of the collection, according to the documents provided by the Border Guard Service and the Military Prosecutor's Office, exceeds 16 million euros at present.
The President asked the leadership of these agencies to make proposals to award the staff who was involved in the operation.
The Head of State has ordered deputy head of the Presidential Administration Kostyantyn Yeliseyev contact the Italian partners and invite experts to authenticate the paintings and agree on formalities relating to their transfer.