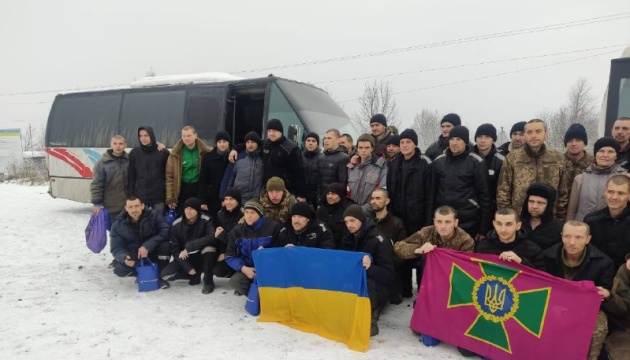 Another 116 Ukraine defenders returned from Russian captivity
Ukraine has completed another round of prisoner of war exchange o with Russia. Another 116 defenders returned home.
That's according to the Head of the President's Office, Andriy Yermak, who broke the news on Telegram, Ukrinform reports.
According Yermak, "we managed to return 116 of our people, defenders of Mariupol, Kherson guerillas, snipers from the Bakhmut area, and other heroes of ours."
These include 87 soldiers with the Armed Forces, two of whom are with the specops forces, eight soldiers with Military Intelligence, seven with the National Guard, six with the National Police, five border guards, two with the Navy, and a State Emergency Service operative. Among them are two officers and 114 privates and sergeants."
"In addition, we managed to return the bodies of foreign volunteers - Christopher Matthew Perry and Andrew Tobias Matthew, as well as the body of a Ukrainian volunteer soldier who served with the French Foreign Legion and after the start of a full-scale Russian invasion returned to defend Ukraine - Yevheniy Olehovych Kulyk".
"We continue our work. We will return everyone," Yermak emphasized.
As the Coordinating Headquarters for the Treatment of Prisoners of War notes on Telegram, "Twenty-three released defenders are injured or sick, some have lost their limbs due to frostbite. The youngest of the freed soldiers recently turned 20, the oldest – 62."
The Headquarters added that "work is ongoing on the next exchange."
As reported by Ukrinform, referring to Alyona Verbytska, the President's envoy for ensuring the rights of defenders, as of late December 2022, about 3,400 Ukrainian servicemen remained in Russian captivity, and another 15,000 persons were reported as missing.
On December 31, the Coordinating Headquarters for the Treatment of Prisoners of War reported that 1,596 persons, including soldiers and civilians, were freed from Russian captivity in 2022.
At the same time, the Russian side canceled the exchange, which was scheduled for January 14.
Dmytro Lubinets, the Verkhovna Rada Commissioner for Human Rights, calls on the families of POWs not to make public their names in order not to complicate the Headquarters' work.