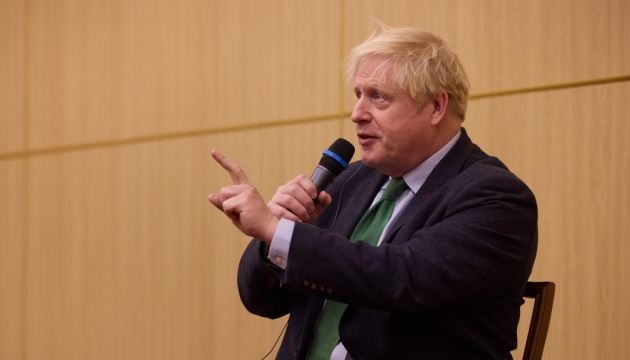 West must help Ukraine win war this year - Johnson
The West must help Ukraine gain a victory over Russia as early as this year.
That's according to an op-ed, penned for the Daily Mail by former UK Prime Minister Boris Johnson.
"When Ukraine wins, that is a message that will be heard around the world. So let us help them win, not next year or the year after, but this year, 2023; and don't talk to me, finally, about expense. If you want to minimise the world's economic pain, if you want to avoid the enormous cost – in blood and treasure – of letting this tragedy stretch on, then let's together do the obvious thing. Let's give the Ukrainians all they need to win now," Johnson wrote.
According to the ex-British PM, Ukrainians need hundreds of tanks, and they have to get them from the U.S., Germany, Poland, and many other nations.
"Where does the Western world need to station those tanks at the moment? Guarding North Rhine-Westphalia? Protecting Tennessee? Prowling the villages of Wiltshire? The same point can be made about every item of conventional weaponry that could help Ukraine bring this agony to an end," Johnson wrote.
He also called on the West to send Ukraine a large number of long-range missiles and warplanes.
"They need 'deep fires' – longer-range artillery that can take out Putin's positions from afar. At present, they can see what he is doing on Ukrainian soil. They can discern his command centres and ammo dumps. To their immense frustration, they cannot hit those targets with the systems they have. They need planes to strike those positions from the air, and they need armoured cars and tanks to recapture and hold the ground that Putin has stolen," wrote Boris Johnson.
As Ukrinform reported earlier, on January 22, Boris Johnson visited Bucha and Borodianka, the two towns in Kyiv region massively devastated by Russian invasion forces at the outset of the full-scale invasion.
On the same day, President Volodymyr Zelensky met with Johnson, briefing him on the front line developments.