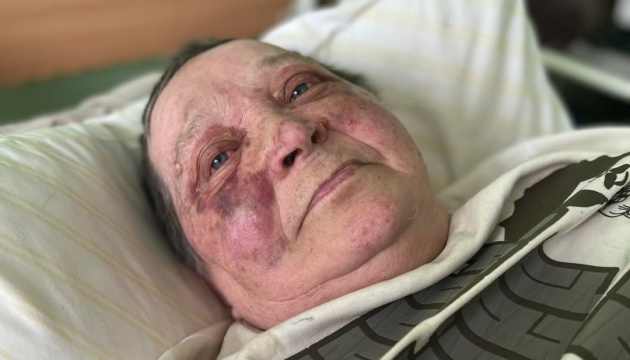 Retired journalist luckily escapes Kherson after Russians break her spine for refusing to leave passport behind
Tetiana Antoniuk, a Kherson-based retired journalist and volunteer has managed to make a lucky escape from the occupied city after being brutally assaulted by Russian soldiers over her unwillingness to give them her Ukrainian passport on demand at a check point.
This was reported on Facebook by the First Medical Association of Lviv, according to Ukrinform.
"Half-conscious, with a spinal fracture, a 70-year-old Tetiana Antoniuk could barely climb into the car and escape from an enemy checkpoint. She was evacuated by train to Lviv, where she was taken to St. Luke's Hospital. Examination showed a fracture of the spine and severe bruising to the head. The woman partially lost her hearing and could not move without assistance. To make Tetiana walk again, our neurosurgeons had to perform a complex vertebroplasty, in other words – to introduce a special bone cement into the affected area," the statement reads.
Medics note that until May, Antoniuk had flatly refused to leave occupied Kherson before agreeing to flee, persuaded by her husband, who is with the Ukrainian military now and was concerned about her safety.
The car she was riding in out of town together with her neighbors was stopped for an ID check at an enemy checkpoint. The occupiers took away all their valuables but when the woman refused to give away her Ukrainian passport (this was her principled position as a Ukrainian citizen), they assaulted her. It was a miracle that she made it out alive, the report says.
She was hospitalized in Lviv in critical condition, but the operation was successful.
"Tetiana is already starting to walk again, looking determined. She says she doesn't want to stay there for too long as 'there's no time to rest - I need to continue volunteer work!' the hospital press service added.
As Ukrinform reported earlier, a National Rehabilitation Center will be opened in Lviv. This will be the first such facility in Europe where doctors will be able to perform 10,000 operations per year, being able to help more than 50,000 Ukrainians affected by the war.
Since the full-scale invasion, more than 3,000 wounded and injured Ukrainians have been evacuated and admitted to Lviv hospitals. These are mainly patients who have lost limbs in mine blasts, as well as those with severe shrapnel wounds, burns, contusions, and vision loss… Here, in hospitals far from the frontline, they receive treatment and rehabilitation, while some are transported to foreign clinics, if required.