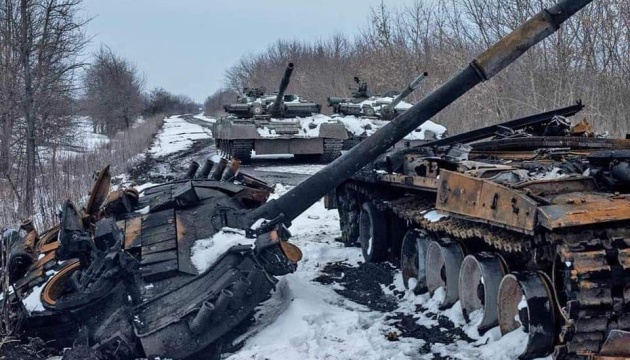 General Staff: Russian invaders suffer significant losses
Russian invaders suffer significant losses.
According to the operational information as of 24:00, March 19, the Ukrainian Defense Forces continues its defense operation in the Eastern, Southeastern and Northeastern directions. Measures of the martial law regime, stabilization actions, and territorial defense tasks are being carried out, the General Staff of the Armed Forces of Ukraine posted on Facebook.
As noted, the Air Force of the Armed Forces of Ukraine repulses concentrated missile and air strikes and air attacks of the enemy, air cover of densely populated cities, important industrial facilities of Ukraine and troops operational groups.
In the southern direction the front line of defense was restored along some borders. In this direction the enemy is forced to regroup, deploy additional reserves, take measures to restore the combat effectiveness of units.
In the Donetsk direction Russian occupation forces are conducting assaults and fire.
In the Volyn and Polissya direction the enemy did not carry out the active action, building fire control systems, engineering support and logistics in preparation for the attack on the city of Kyiv.
Offensive operations are also not underway in the Siverski and Slobozhansky directions. Enemy forces are shelling Ukrainian settlements.
In the direction of Izyum, Kharkiv region, the enemy tried to break through the defenses of our troops, but was unsuccessful, the assault units of the invader were actually destroyed.
The occupiers suffer significant losses. "The moral and psychological condition of the personnel is low and deteriorating with each passing day of hostilities. Punitive units of Russia's Guard involved in hostilities have lost a significant amount of weapons and military equipment. Recovery of losses is due to outdated and partially defective equipment," the General Staff informs.
The commandant's office of the Russian city Belgorod is investigating case about 10 servicemen of the 138th Motorized Rifle Brigade who took part in the offensive in Kharkiv and, due to heavy losses, refused to take part in hostilities and incited the rest to return home.
It is noteworthy that the head of the 652nd ISPO group of the Russian terrorist forces was severely reprimanded for his weak work on the creation of the so-called "Kherson People's Republic". The Kremlin leadership is not satisfied with the fact that due to popular opposition there is not even a conditional demonstration "picture".
As reported, from February 24 to March 19, the Russian invaders lost about 14,400 personnel.
ol